Cooler weather is here, and with it comes some of the year's most exciting fishing opportunities. For you to get the job done this winter, you'll need to have the right clothing. Putting your warmest coat on under your waders may seem like a great idea, but you'll find that half the time you're still wet and cold, and overheating the other half. To effectively fish into the winter, you need layers. Correct layers are a super underrated aspect of cold weather fishing, and are vital to lasting long in the adverse conditions you'll encounter this time of year. Here's what we look for in our cold weather wear, and how they'll keep you out on the water.
If you've ever spent time in winter sports like skiing or snowboarding, you're probably familiar with the world of moisture wicking fabric as your base layer. Materials like polyester move sweat to the outside of the fabric, towards your outer layers and the air where it can evaporate. The same technology applies when fishing in waders. Wicking material also ensures that your waders do what you'd expect them to- keep you dry. Being able to keep moisture off of your body in the cold will keep you warm and comfortable, even after the hike into your favorite spot.
Next, you'll need a mid layer. This will be the gear you'll use to really keep yourself warm. The best choice for these will be fleece-like clothing that are light but well insulated for optimum mobility that still traps heat. Most quality mid layers are also made of moisture wicking fabric, to preserve the heat being held in.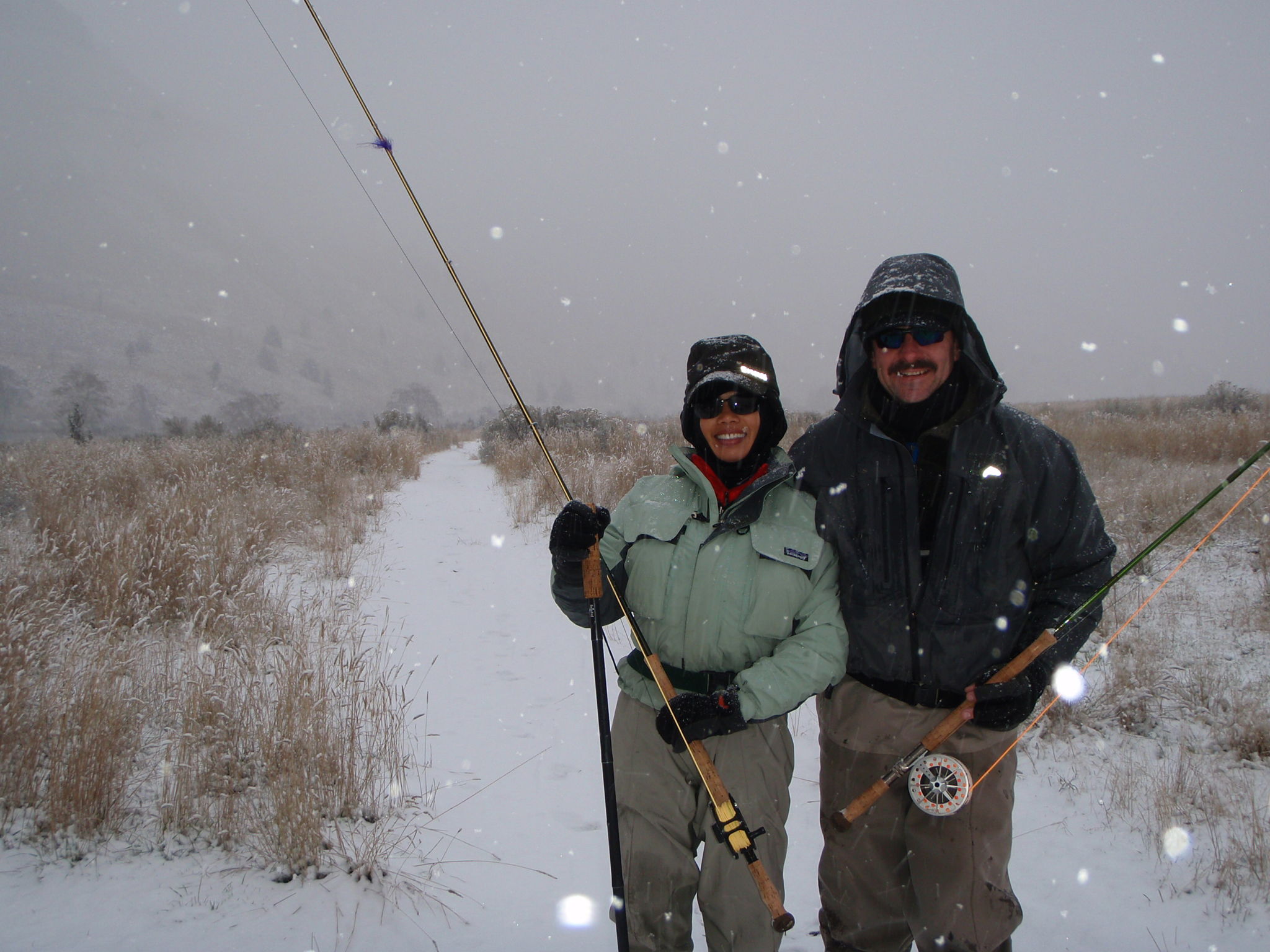 Finally, and depending on weather conditions, you'll want an outer layer. The outer layer serves as a sort of shell to protect you from rain and snow, or even as a windbreaker in blustery weather. Without these, you'll get wet and ruin the job that your mid and base layers are doing to keep you warm. Fly fishing-specific outer layers like wading jackets have also incorporated some helpful features for high performance on the water. Extra large fly box pockets, hand warmer pockets, and higher hemlines to better pair with waders helps make for a seamless transition into foul weather fishing and keeps everything out of the way for on the water efficiency.
We also can't talk about winter fishing without mentioning the extremities. From safely wading to tying knots, keeping our hands and feet out of the cold as much as possible is a necessity. Thick, wicking socks are a must when wading in cold water. Anglers will even double up on socks, and/or use foot warmers in their boots. For your hands, fingerless gloves allow you to retain some heat while still giving your fingers the mobility for tying and line control. Some gloves have fold down mittens to fully cover your hands while moving between spots or warming up on the bank.
Layering up for winter fly fishing can be simple, but it's important that you're using the right gear. Just like you wouldn't forget your rod for a fishing trip, quality cold weather gear should be just as much of a thought. Nothing is less fun than having good fishing and not being able to last in the elements to enjoy it. Come in the shop to check out our variety of base layers, middle layers, and outer shells, and stay warm out there!