Wading boots these days come in many different makes and models, and choosing the right ones can sometimes take you through a difficult bog of jargon and buzzwords. There are many quality options for consumers these days, but also some options that could leave your feet sore and unhappy. At the Patient Angler, the boots we use and sell are Korkers, which we feel offer the best value and tech in the industry. There could be many reasons for purchasing new boots and/or soles. Whether you're going to an area that doesn't allow certain types of soles or just looking to upgrade those decade old boots that have lived in the garage and had more spiders in them than feet, we can find something for every need.

Boots

The most important thing for any boot is how it fits. If your boots cost you $500 but they don't fit right, you will not enjoy them. If your boots cost you $50 but they don't fit right, you will still not enjoy them, you'll just have more money for ibuprofen at the end of the trip. Trying on boots at the store is always the first step for any customer that wants to purchase boots, especially if you haven't had boots before. The idea for sizing is that you go up one whole size from your shoe size for men, and stay true to your shoe size for women. Sometimes, you might go up more than one size because wading boots don't come in half sizes. For example, Peter and I both wear size 10.5 shoes but size 12 boots with extra socks, because that's what we've found to be the most comfortable. In our case, wearing a thick wool sock or possibly even two is a better fit than having a boot that is a size smaller but pushes against your toes. You can always fit into a slightly larger boot by putting different socks on, but you can't make your toes shorter to fit into a smaller boot without sacrificing comfort through restricted circulation or a pressure point. Alternatively, if you have a boot that is too large your foot slides around more which could lead to blisters, and it could make the neoprene on your wader foot wear out quickly from too much friction. We provide test socks and wader boot feet that we use to get your boots fitting correctly at the shop, so you can be sure that your boots will fit right when you buy them without having to bring your own waders.
After we determine what the correct size is, then it's personal preference for what price point and type of boot you like. The Darkhorse and River Ops Boots come with the BOA lacing system and are on the stiffer, more traditional boot feel end of the spectrum. The Greenback and Buckskin have traditional lacing and moderate support. The Devil's Canyon has BOA lacing, and is an all neoprene upper, making it very flexible and lightweight. BOA laces are a system that uses a dial to tighten small wires instead of traditional laces. People with limited mobility or people that fish in below freezing temperatures will have a much easier time with BOA lacing. Never having to deal with cold, wet, and maybe even frozen laces makes the end of the day nicer on you and your gear. Still, it's all a matter of personal preference and by having all these options available to try on at the shop we can provide you with the product you need, not the product someone wants to sell you.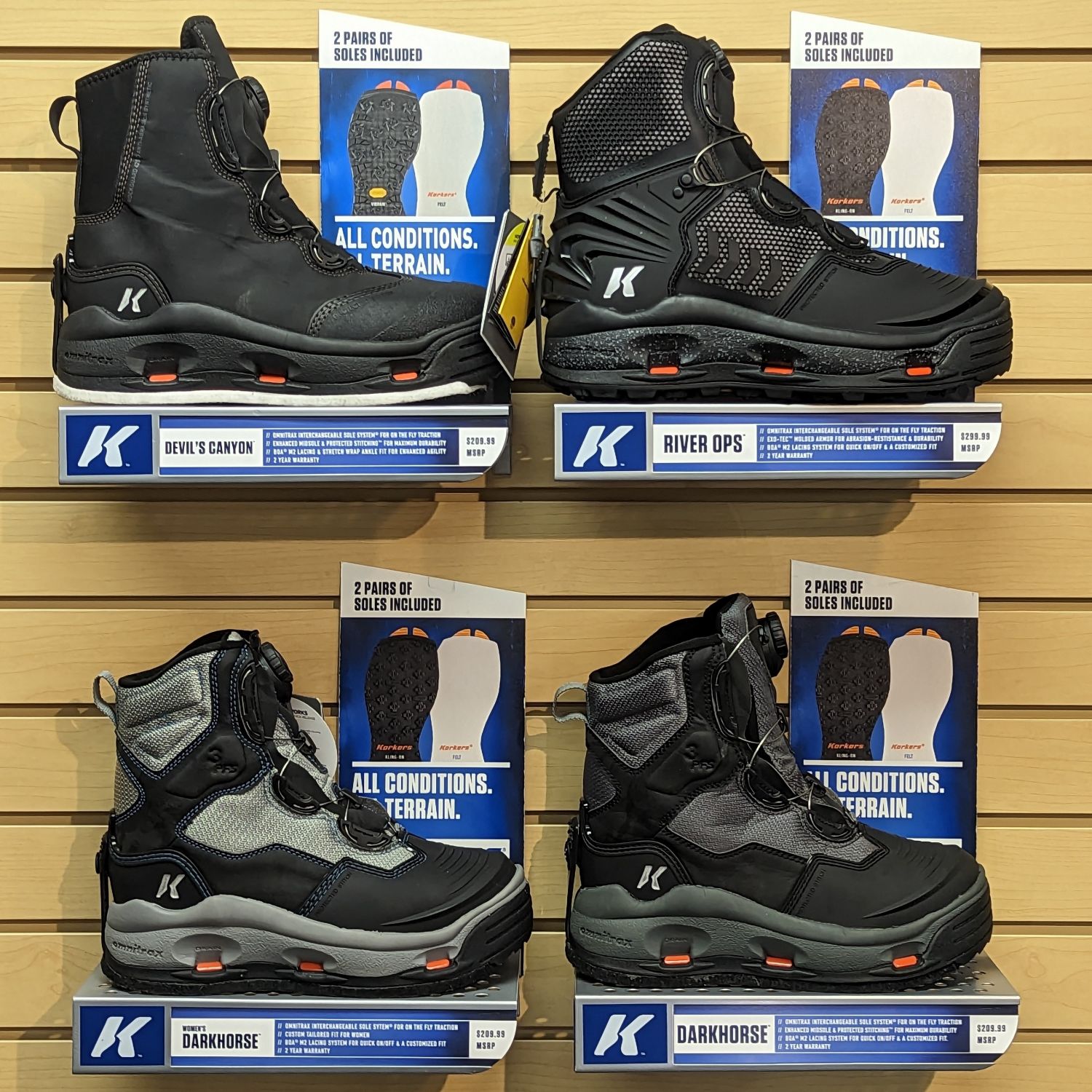 Soles

Choosing the right sole is very important everywhere you will fish, but even more so out here in central Oregon. We have many different types of substrate. From the clear spring fed sandy bottom of the Fall River, to the nutrient rich slick bottom of the Crooked River, having the best traction for the environment can be the difference between showing your friends a picture of your fish or taking a swim in the cold water. Korkers are the only manufacturer of wading boots in the world that have an interchangeable sole system where you can purchase different types of soles and swap them in and out. Most of their boots we carry come with rubber and felt soles. Felt stud soles can provide additional traction in the most treacherous of rivers like the Crookes and lower Deschutes. Certain places with lots of angling tourism, such as Yellowstone National Park or Alaska, don't allow felt soles. People also may not want studded soles in their boats scuffing up the floor. In wintry weather, snow sticks to felt. Unless you want to slide to the fishing spot down a hill, rubber soles with long studs are the choice in wintry weather. Korkers also has a new Vibram branded heavy duty rubber studded sole that is perfect for wintry weather. Places like the Fall or Metolius River don't have as much algae/plant growth on the substrate, so plain rubber soles are okay to wade and hike with in place of studded felt or rubber. It all boils down to where you are going and when.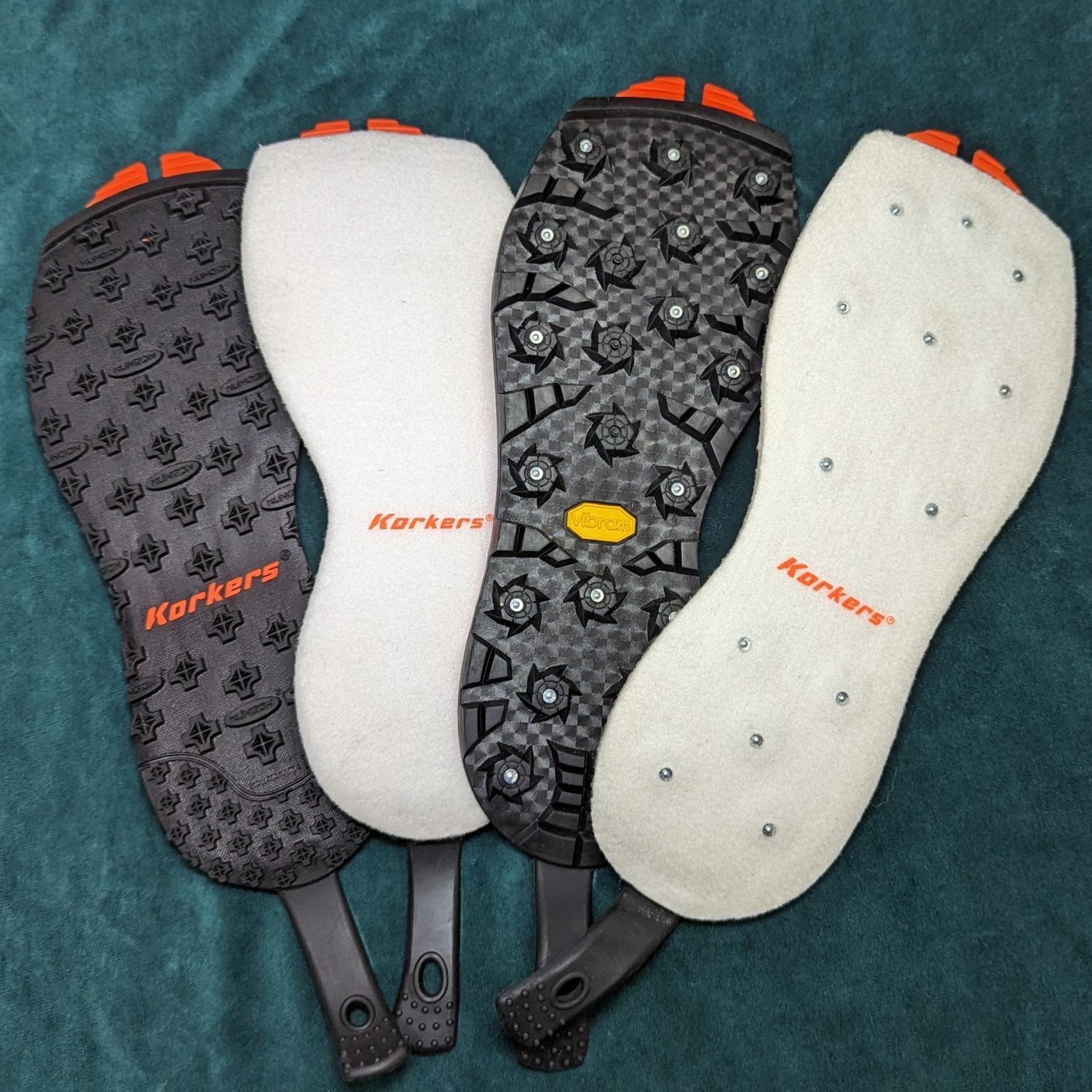 Whatever the situation is that you're purchasing boots/soles for, we have experience to outfit you properly!