June is the beginning of summer, with long, warm, sunny days and the summer solstice on the 21st. That day, you'll have 17 hours of daylight to fish! Start planning now...Lakes really start fishing well and the water conditions get more consistent, and there are plenty of hatches to hit throughout the month. As usual, we'll have the most up to date information when you can come in to the shop, but here are some general ideas for what's going to be happening during the month of June around central Oregon.
The lower Deschutes will certainly have a few salmonflies and goldens left the first week of June, and probably goldens into the second week with the cooler temperatures we had through the winter and spring. Green drakes are still around that time of year on the lower as well, but they show up mostly on cloudy, rainy days. Yellow sallies will be out, and evening caddis are also a constant throughout the warmer months. The middle Deschutes will have mostly mayfly dries from 12-16 and caddis, and the stonefly hatch will most likely be over. Still, there may be isolated pockets with fish looking for big bugs still in the first week or so of the month. Streamers and buggers always can produce on the middle, as will euro nymphing and indicator tactics with the usual patterns such as pheasant tails and perdigons. The upper is open May 22nd, and below Wickiup is always fun for various mayflies on cloudy days, with a few golden stones mixed in as well as flying ants. This can be a very easy section to float (if you avoid the waterfalls), but below La Pine State Park the fish density drops off quite a bit, mostly due to the unnatural flow regime for irrigation and bank destabilization until you get closer to Benham and away from the vacation homes. In between Crane Prairie and Wickiup you sometimes find some nice fish distributed throughout but most of the adult fish will be down around Sheep's Bridge or lower. Streamers or euro nymphs are the typical fare, but you do get a few different hatches, mostly BWOs and caddis but there are a few green and brown drakes that make an appearance. Above Crane Prairie, you should see about the same bug activity as below Wickiup, with a few more golden stones and more sporadic mayflies. The Metolius gets the vaunted green drake hatch, mostly early to the middle of the month, and this is a great one to try and hit if the Metolius has been stumping you. The drakes get the attention of every trout, and it's the first large meal that most of the redband see post-spawn. If the hatch is on when you are there, it will not be tough to see where the fish are. These rises are very splashy. Caddis and PMDs will be around on the warmer sunnier days, and BWOs on the cloudier cooler days. Every so often flying ants make an appearance. The Fall River also gets green drakes, but not quite as many as the Metolius. Terrestrials like ants and beetles show up on the Fall, and PMDs should be coming off in good numbers. Certain marshier slower areas can see damselflies as well. As always, since the fish above the falls are by and large hatchery fish, getting weird with your fly selection can work when the fish aren't paying attention to the hatches. We have a couple standbys at the shop that pretty much work year-round on the Fall. The Crooked River will have some caddis, BWOs, PMDs, and midges as usual, and the flows are fishable as of this article. Check the flows for below Bowman dam here. Every other stream that was closed under the general May 22nd opener will be open. Snowmelt may still be affecting some of them and the water will rise and fall with the air temperatures throughout the day, so paying attention to wading and crossing areas that may be more treacherous coming back to the car is always a good idea. The John Day is in shape, and will be for the rest of the summer barring any thunderstorms that could blow the river for a short period of time. It's always a good bass fishery as long as the river isn't completely blown out. A great place to take kids or beginners that isn't trout-centric.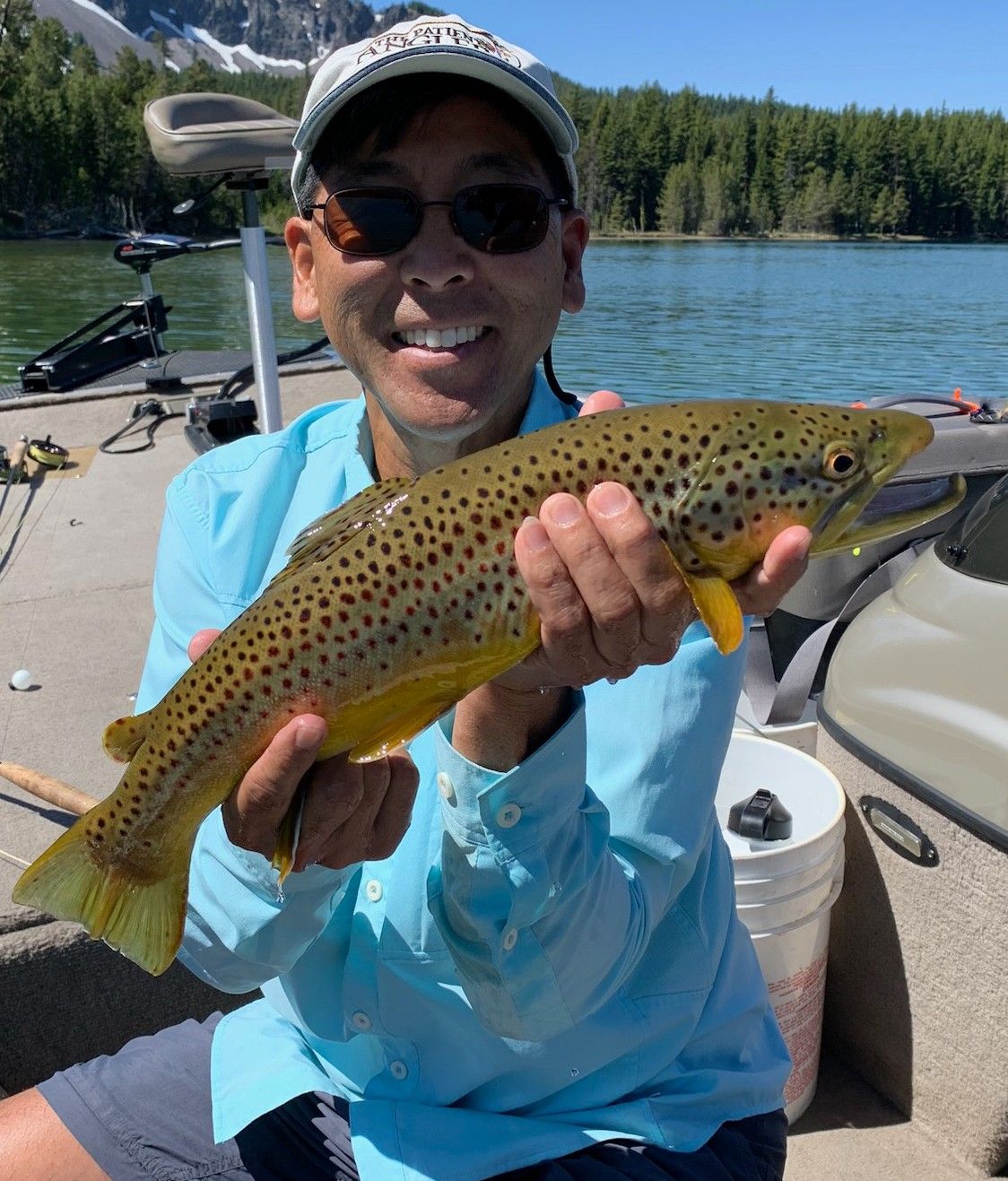 The lakes will be in various stages of warming, so keep an eye out for dirty water that may mean turnover. If you see that, it's probably best to fish somewhere else that day. Leeches and damsel/dragonfly nymphs are always good searching patterns, and suspending them below an indicator along with a chironomid is the classic trout lake set up when nothing is readily apparent on the surface. Water boatmen and ants can be vital in the early summer, as both of these bugs can fly and will be present anywhere you fish. Like in the May report, baitfish that are spawning can be a very lucrative meal for larger more piscivorous fish. Paulina and East lakes have had stockings of brown trout, Blackwater, and Klamath strain redband at various times, and all of those specialize in eating fish more so than the typical hatchery rainbow trout. Paulina has been much colder than East Lake so their hatches and spawn timing may be a little delayed compared to East. North and South Twin receive regular stockings as well, and are always a good bet with kids or new anglers. Most if not all of the higher elevation lakes should be free of ice, but again we'll have more up to date info in the shop. Callibaetis will start showing up, and the warmer the better for those little gray mayflies. A callibaetis emerger slowly stripped near new weed lines is a good producer this time of year. Lake Billy Chinook should have some good bass fishing for post spawn fish, and Prineville is definitely a decent option this year for bass, crappie, and trout with the water year the Crooked watershed had.