As warmer months and topwater action wind down, it's a great idea to start stepping up your nymphing game for the fall and winter. If you haven't already, adding some euro nymphing abilities to your arsenal is a great way to broaden your skillset as an angler (and put some more fish in the net!).
Euro nymphing was developed among the competition fly fishing community, where the ability to pick apart technical water quickly and effectively can make the difference in a fight for the podium. Unsurprisingly, this very effective method for catching fish gained ground in the recreational fishing world over the past decade, and has resulted in an explosion of unique rods, reels, and other products designed for this specific style.
Although the tools of euro nymphing are slightly different, the core concept is still relatively simple, and one many anglers may already be familiar with. Euro nymphers maximize all of the pros of tightline, or high stick, nymphing (direct, drag-free contact to subsurface flies, depth control, higher hookup ratio) by using heavy flies, long leaders, and light tippet that heighten the connection between angler and fly.
The Gear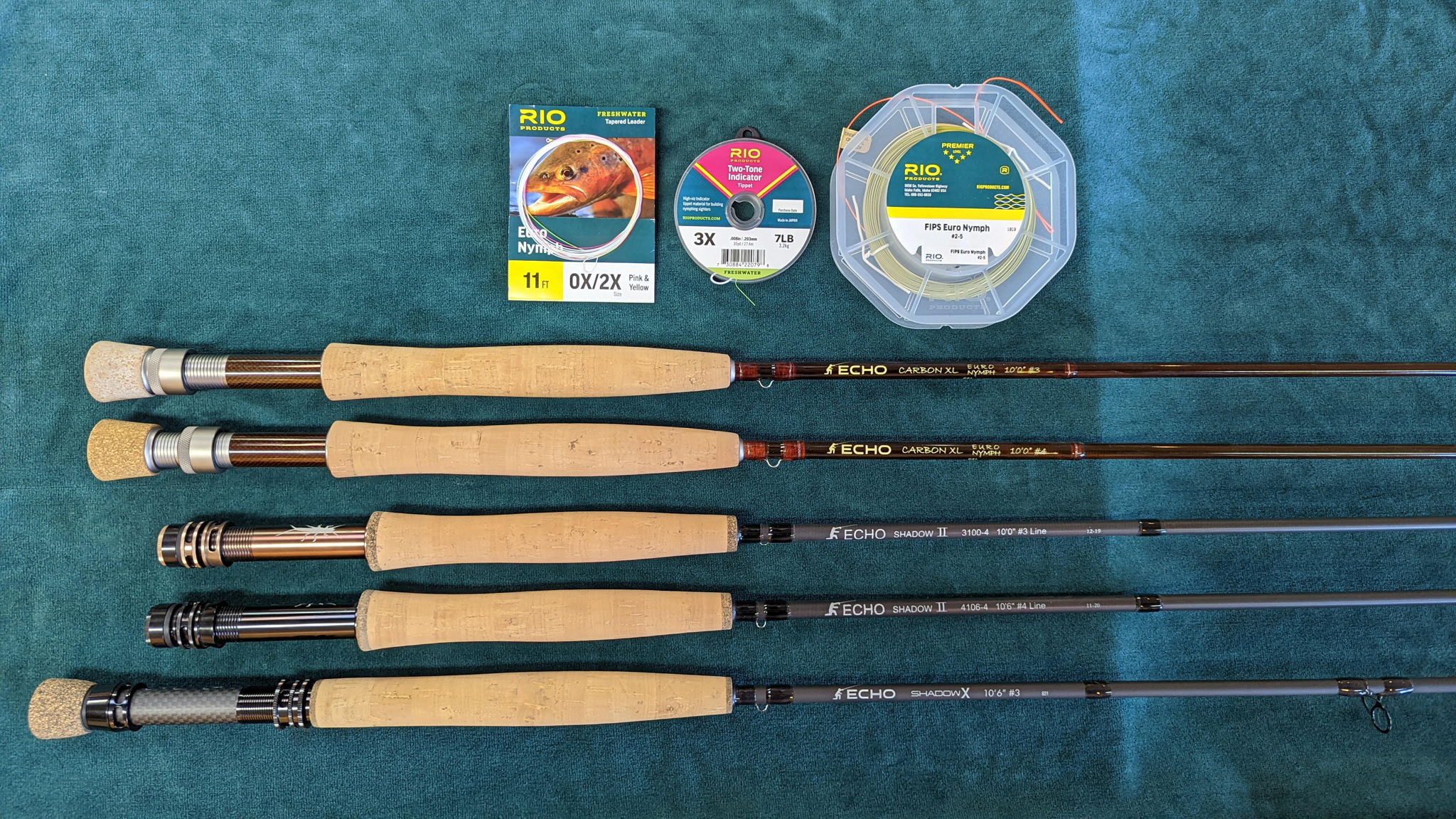 More recently, specialty rods have been developed for competition and casual anglers alike, which have increased the abilities of tightline rigs. Thinner, 2-4 weight blanks at lengths of 10 feet or more extend the reach of what you can fish in the absence of a real cast while still keeping sensitivity at a maximum. Colored sections of tippet called "sighter" and thinner, level fly lines help maintain contact and detect strikes, and are also now widely available.
Echo was one of the first rodmakers to bring euro gear to the states, and their rod collections have stayed at the top. We have a wide array of Echo euro rods in stock, with differing weights, lengths, actions, and prices. We also carry specialty euro lines, leaders, and sighter material from popular brands RIO and Maxima.
As with many other types of fishing methods, euro nymphing can be as simple or as complex as you want it to be. Most beginners get one of our premade euro leaders, which simply attach to the end of a fly line (preferably a level line) and can be a great way to get into the feel of contact nymphing. There are also countless different leader formulas, rod lengths/counterweights, and casts that you can factor into your approach, and we have the experience to break it all down for you. Whether you've had the gear for a while and are looking to improve your skills, or you're looking to try this technique for the first time, we're here to give you the tools and information you'll need to be successful. Just save some fish for us!