Two handed season is here, and things are slowly picking up. The Deschutes is open for the first time in two years, and a few of the rivers on the West side are getting good. Whether you're an experienced spey caster or this is your first season, there's a rod in our lineup made to up your game or get you started as we head into the fall.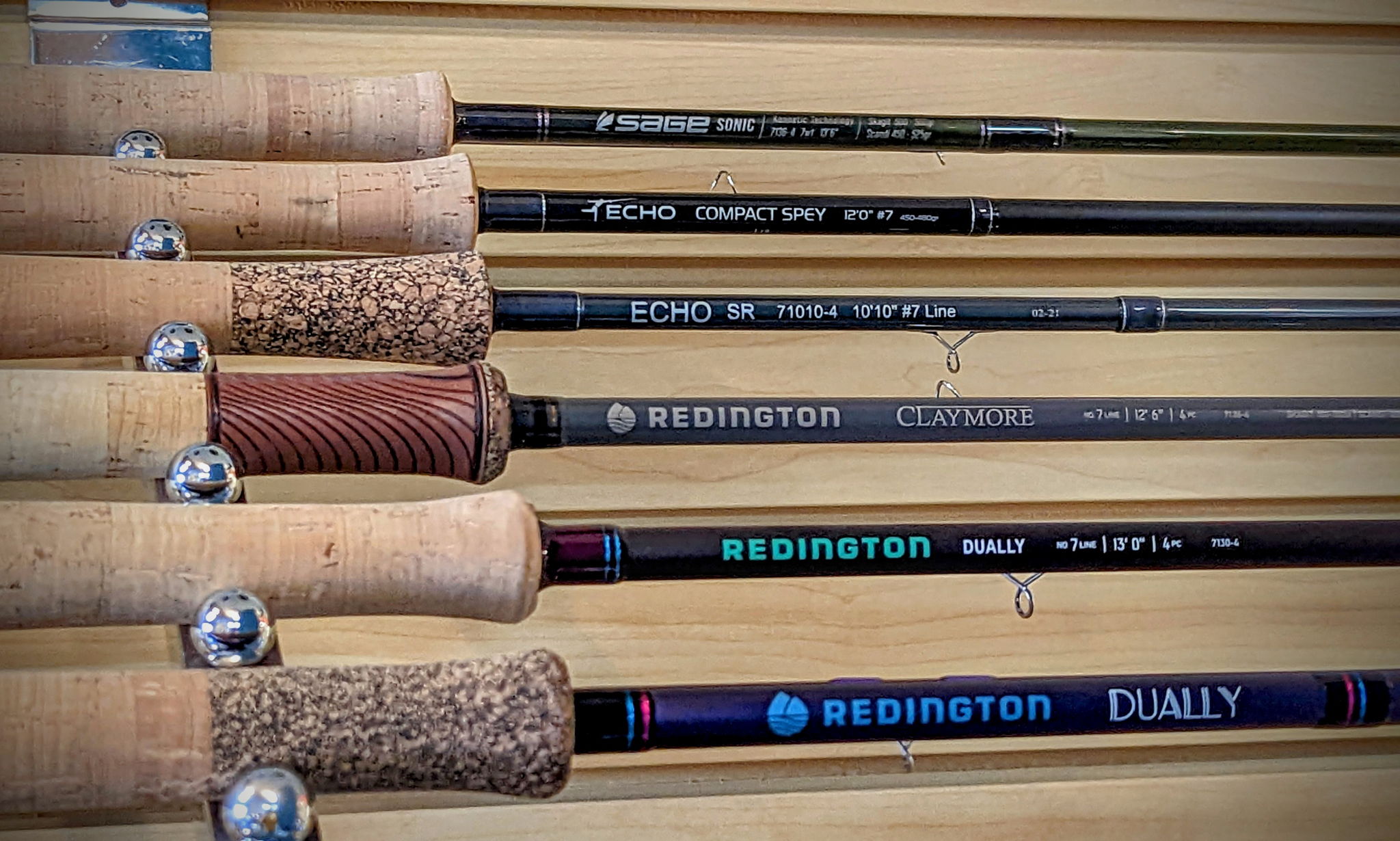 Redington Dually- $299-$319
The Dually is a fantastic rod for anyone looking to get into the art of spey casting, or anglers just searching for a quality affordable two handed rod. Redington has put a lot of effort into making a quality spey rod in the $300 dollar range, and it certainly doesn't disappoint. It's available in two colors- a bronze finish or a limited edition purple.
Redington Claymore- $449.99
This is Redington's "Performance Spey", and it fits the role well. The Claymore is fast and casts super smooth, with both the power to throw big sink tips and finesse for lighter patterns. There's a few nice touches to make this rod technically efficient as well- Polymer Pinch Grips for better ling control and a down locking reel seat helps keep the rod perfectly balanced. Overall, the Claymore is a reliable tool you'll never need to upgrade from that still doesn't break the bank as far as spey rods go.
Echo Compact Spey- $549.99
The Compact Spey was developed to adapt with modern spey fly lines, which have become more and more compact over time. Echo rebuilt the spey rod with this trend in mind, and consulted some champion casters along the way. The result was a rod that perfectly matches this newer, popular style of spey lines, helping you get the most out of all your equipment.
Sage Sonic- $850-$950
The Sonic is up there with the best of the best. It's got power and precision to cast the range of your favorite rigs, and is extremely thin and light, which will keep you casting longer and in adverse conditions. The Sonic also features Sage's Konnetic Technology, game changing graphite that dampens minor casting errors and makes your deliveries smoother and straighter. It's high priced, but high performing, and the best spey rod you'll buy for the money.
Echo SR- $329.99
The SR is an awesome switch rod with a wide range of skills. If you're looking for an all-round rod to handle summer time swinging and throwing indicator rigs, the SR will cover all your bases. It's light, powerful, and affordable, and can do everything you'd ever look to do with a switch!
We carry two handed rods for every angler and fishing situation. Some rods may have more bells and whistles than others, but they'll all do the job you need them to do. We've pulled the best of the best from the industry in a range of prices, line weights, and lengths to suit your needs, and we're more than happy to give you the rundown in person. Come swing by the shop and check out the gear for yourselves!